No limit campaign
The offer below is a pefect offer for starters or busy dive business owners. Gooddive staff will optimize a campaign for you and keep you informed with statistics.
Experienced advertisers can customise specific campaigns with regional targets, specific OS, pay per click etc.
No View or click limit !
Professional staff optimize your campaign for best profitability.
Online statistics to track your success.
Appear randomly on top of all relevant pages of your campaign including the directory.
Only 750US$ per year (no hidden costs)
Our designer can draw you a banner for free.
No credit card needed.
Credit card / PayPal payment available on secure server.
Free support.
3 steps quick start!
Example
(of a banner on a page in the portal:)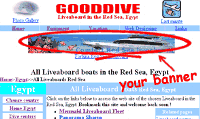 Your banner will randomly appear on all pages related to your company for a perfect targeting...
You can also visit any page of gooddive and see examples of diving companies already taking advantage of this opportunity.
I need assistance...