For exploring of wrecks make sure to have the required training level and equipment!
Check with your dive center to have all necessary information for safety!
Always dive according to that and to the current conditions!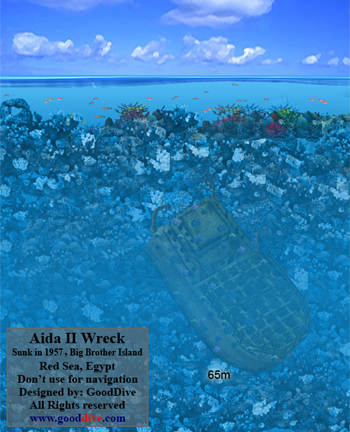 In September 1957 the Aida II was about to deliver goods and lighthouse staff to the coast guard station on Big Brother island, but because of strong wind and high waves it was smashed into the rocks of the island while it was approaching the jetty of the lighthouse on the western side of the coast. Although the vessel began to sink immediately, the shipís crew could be rescued, before the Aida drifted in the storm towards the north-western tip of the island, where it sank.
Most of its bow burst due to elements and the collision. The formerly 75m long ship now lies at an extremely steep angle in a depth between 25m and 65m.
The access to the engine room and the hold in about 35m are wide enough and can easily be explored. In there you will find huge schools of glass fish. The stern provides habitat for large groupers.
The whole wreck has been conquered by the reef, itís fantastically covered with soft and hard corals and home to various kinds of marine creatures. Photographers will find a multitude of exciting motives.
Because of the depth and currents, dives at the Aida are recommended only for experienced recreational and technical divers.