For exploring of wrecks make sure to have the required training level and equipment!
Check with your dive center to have all necessary information for safety!
Always dive according to that and to the current conditions!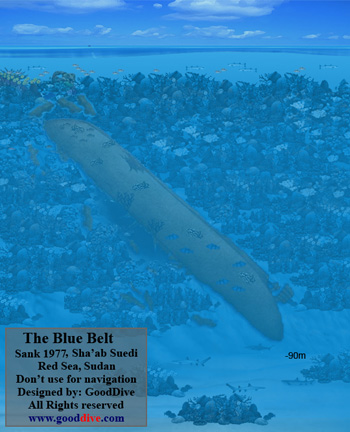 The Saudi Arabian cargo ship Blue Belt sank in 1977 after a collision with the reef in Sha'ab Suedi, about 75km north of Port Sudan. The 103m long wreck now lies upside down on the south western reef slope in a depth of 21-90m.
Toyota cars, which were part of the load, are scattered all over the reef outside the wreck. Some of them still complete with lights, steering wheels and seats are now completely encrusted with coral and permanent fauna. Huge schoals of big eye trevallies and snappers, as well as lunartail groupers live beside the wreck and frequently white tip reef sharks can be seen.
The hull of the large ship, resting on the reef is fascinating to look at.
Because of the currents and the depth, for safe recreational dives, it is strongly recommended to dive only the bow section on the first plateau (max. 36m).