For exploring of wrecks make sure to have the required training level and equipment!
Check with your dive center to have all necessary information for safety!
Always dive according to that and to the current conditions!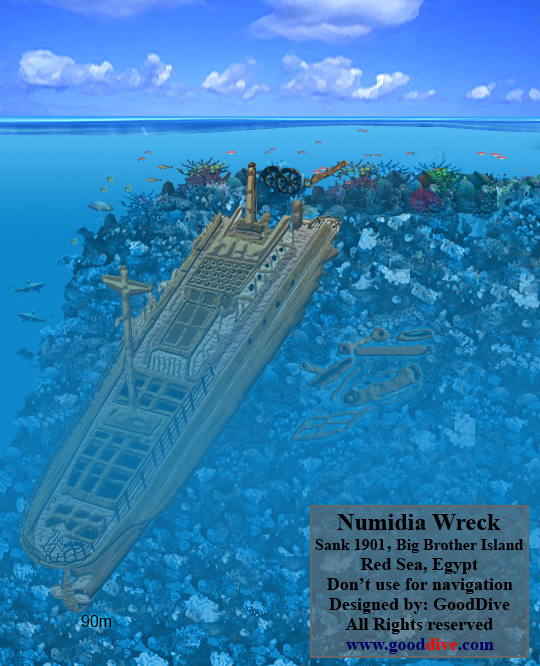 The vessel Numidia was just on its second voyage when it smashed into the northern tip of the Big Brother Island. Due to the hard collision the bow got seriously damaged, the ship began to take water and sank. Now the wreck is lying in at a steep angle on the drop off of the northern plateau in a depth between 8m to 90m, out of the recreational diving limits. In about 80m its keel sits on a small ledge, which is preventing the wreck of slipping down into the abyss.
Due to the permanent currents an amazing abundance of soft corals claim the wreck, vibrant marine life surrounds the divers when they start to explore the Numidia.
The bow of the wreck meanwhile has completely been covered by the reef, only some train wheels and axles are spread around in the shallow area on the reef top. The diffuse light and the impressive view into the dark blue give a sublime atmosphere.
Descending further down you will arrive to the remains of the holds and the superstructure. All rooms are easy to enter, because the wooden decks of the wreck rotted away long ago.
The masts are still rising into the blue. In the early morning you might see sharks passing by in the blue water. In about 50m the funnel can be spotted, the stern with the propeller and the rudder are lying in about 90m.
Be aware, that even if you can see the stern in the depth, to dive there is beyond the sports diving limits and can only be performed by experienced technical divers.