For exploring of wrecks make sure to have the required training level and equipment!
Check with your dive center to have all necessary information for safety!
Always dive according to that and to the current conditions!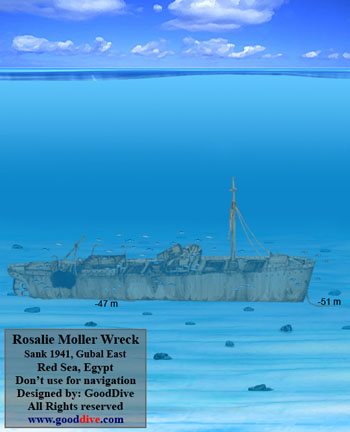 In 1941 on its way to Alexandria the Rosalie Moller, loaded with coal, was at anchor between the islands Gubal and Queisum when it was attacked by German bombers. It was just a few days after the sinking of the Thistlegorm, when 2 bombs hit the vessel and ripped a huge hole in the hold on the starboard side.
Now the 110m long wreck is standing upright, as if "parked", on the sand in about 50m depth.
As there is no reef as a reference, the divers have to descend along a mooring line to reach the deck in 25m. The marine life that can be observed over there is amazing. Thousands of glass fish on the deck and around the bridge, among which large shoals of jacks, snappers and tuna can be spotted. Big groupers and huge lion fish have settled in the bow and stern section.
The deck is still quite intact, it is easy to explore its deckhouses and swim up the ladders leading to the bridge. At the bow you can find the giant port side anchor still up. In the stern section the enormous propeller and rudder are worth visiting as well. Probably due to some improperly mooring of diving boats the stern mast is broken down. Meanwhile, the funnel is fallen to the port side, it bears a large "M" on it, the emblem of the shipping company Moller.
It is unnecessary to penetrate the wreck because all parts worth seeing are visible from outside.
Because of the limited bottom time and its size it will need a few dives to explore the entire stunning wreck. Due to the depth, frequently strong currents and the reduced visibility all dives on this wreck require special planning and surface support, they should be left for experienced divers only.