For exploring of wrecks make sure to have the required training level and equipment!
Check with your dive center to have all necessary information for safety!
Always dive according to that and to the current conditions!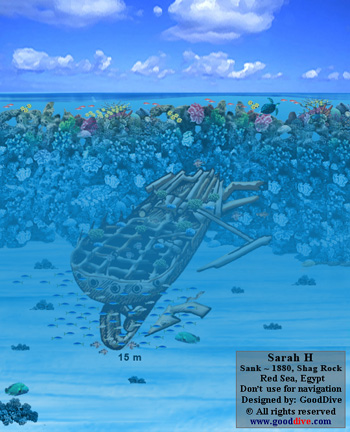 The Sarah H. was one of the ships which were built in the transitional period between sailing and steam ships. Its remains show a funnel as well as two masts. Coming from Suez, loaded with coal, it hit the reef at full speed and was quite damaged when it sunk.

Now the about 75m long wreck is lying in 3 - 15m at the North-western corner of Shag Rock. The remains of the bow are almost completely integrated in the reef. The beautiful coverage with soft and hard corals makes it difficult to recognize single objects in the open hull. Amidships on the deck you can spot a huge spare propeller, making a great motive for photos. Because of this propeller the wreck is also known as "propeller freighter" by some divers. Inside the wreck the main boiler can be recognized, surrounded with innumerable glass fish and shoals of surgeon fish which defend their habitat.

The big, four-leaved brass propeller and the rudder jut out of the sandy bottom, they provide an impressive sight as they are surrounded by huge shoals of fusiliers and yellow striped goat fish. Frequently Napoleons and turtles pass by. Scorpion fish, lion fish and moray eels are permanent residents.

The shallow depth allows enough bottom time to explore the whole wreck. But due to its location in the North of the reef, just on the edge of Gubal Straights, sometimes strong currents can be expected. That's why most of the dives are performed as drift dives. As the diving boats are normally moored at the South side of Shag Rock, every diver needs to carry an SMB to be visible for the RIBs which pick them up.