Dive Bags
Dive bags are designed especially for carrying scuba diving equipment. Their heavy-duty materials and zippers are suitable to resist wet and rough environment.
This is why they are perfect for transportation on your journey and for use on the diving boat. In a dive bag you will always have all your equipment stored together in one place, this prevents the loss of single items.
As there are numerous brands and styles of dive bags offered on the market, every diver can find a bag which fits to his personal needs.
The capacities range from storage place for light weight snorkel equipment to a hold of two complete diving equipments.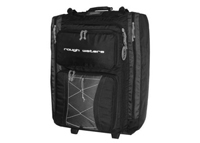 Backpacks
Diving backpacks are intended for carrying the scuba gear on your back, so you have the advantage of having your hands free during your walk. They come in different sizes, some can hold up to two sets of diving equipment. They provide adjustable, padded backpack straps, external pockets for fins or padded pockets for regulators and other accessories. Most models of those backpacks are also equipped with wheels and a telescoping extension handle as an alternate way of transport.
Important features you should check before purchasing a backpack are: extra reinforcements at wear points, ability to lock all zippers, sturdy wheels.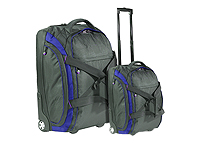 Roller bags
Roller bags are made for holding heavy loads up to two complete equipment sets. Due to their wheels and their locking telescoping extension handle they are easy to manoeuvre also in tough situations. This is why roller bags are perfect for travelling. They mostly have handles which allow to carry them like duffel bags, some of them can also be used as backpacks, they provide padded shoulder straps in a hide-away pocket.
Like the backpacks they also come with different external , sometimes removable pockets for regulators, fins and other equipment. When you decide for a roller bag, make sure that the wheels are robust enough to stand beatings and roughness and provide stability while standing upright;
take care that all zippers can be locked and the heavily used points are extra strengthened.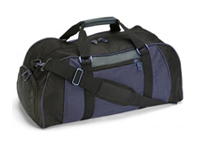 Duffle bags
Duffle bags are a very popular type of dive bags, they are value priced, available in a multitude of materials and capacities and can offer a lot of features.
The heavy duty models are suitable for travelling, they are easy to carry, most duffle bags also provide a padded, adjustable shoulder strap. Mesh duffle bags are perfect for use on the boat or to transport the equipment after dives. Their special material allows to rinse and dry the equipment through the bag. There are also wet/dry bags offered on the market, which are designed with one compartment for dry things and one for the wet gear.
If you find your huge roller bag too bulky to use on the boat, take in addition a foldable, light-weight duffle bag to carry your gear around during your diving vacation.
There are some features you should take into consideration, when you want to choose a duffle bag:
The main compartment should be large enough to store your equipment, and long enough to hold your fins. The opening should be wide enough. The handle straps shoud completely encompass the bag for better stability. All zippers should be corrosion resistant and lockable. A small (dry!)side pocket can be useful for logbooks and other personal effects.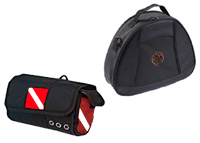 Special bags
There are special bags on the market, designed specifically for protecting certain items of your diving equipment during transport or storage.
Regulator bags are fully padded bags with durable zippers, which protect your entire regulator during travel or general storage. Their shape and size require that the regulator be put in a rolled position. This position is the best way to protect the hoses from any damage as well.
Camera bags are designed to keep your camera equipment safe and well organized and usually come as shoulder bags. They are well padded and provide some inner compartments for the different items. It's a plus, if they are made of waterproof material, in order to avoid a "flooding" of your expensive camera equipment.
A very useful, small bag is a mask bag, coming as plastic box or padded bag to protect the mask from destruction. If you ever opened your diving bag after arriving to your destination and you found your mask broken into pieces, specially if it was one with optical lenses, you will know how important mask bags can be!
Furthermore you can find bags and dry bags for versatile purposes, for computers, mobile phones, note books and more.