Miscellaneous diving accessories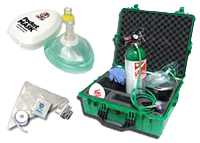 First Aid Kits and Oxygen Kits
First aid kits should be a standard piece of the dive gear. They supply everything to treat minor dive problems, like cuttings, stings etc. Stored in a dry box a kit should contain:
Sterile gauze, band-aids, waterproof tape, antiseptic solution, tweezers, pain reliever (with and without Aspirin), Hydrocortisone cream and Antibiotic cream.
On top of that, each diver should have his own CPR pocket mask. With CPR you can save lives of other divers, and it might save your own as well.
Every diving center or diving boat has to be equipped with Oxygen Kits. This is as well recommended for scuba divers, who go for boat or shore dives by their own responsibility, without the organization of a center and emergency care is not available immediately. The Oxygen Kits come in waterproof Peli -cases and contain basically beside the first aid items:
A 100% oxygen tank (available in different sizes) with a multifunction regulator that can be connected to a constant flow hose and to a demand valve, an oronasal resuscitation mask, a bag valve mask (Ambu bag) with hose.
Even if you are a beginner diver and a medic first aid course is not required for your certification, it is a good idea, to absolve one. It contributes to you own safety, if you know how to react correctly in certain situations.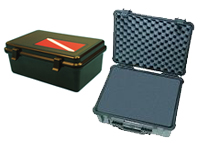 Dry Boxes
Dry boxes are available in lots of different shapes and sizes, from small ones which can just carry a mobile phone to big ones, which could carry a complete diving equipment. The boxes are made of high quality, durable synthetic material with tough handles and locking latches; they are watertight and crush proof. There are some bigger models which are as well airtight, they are equipped with a pressure valve to equalize the pressure differences for example during the flight. In this huge selection every diver can choose what fits to his needs. These dry boxes are great for storing tools, spare parts, cameras and personal items, like money or keys or even suitable as medical boxes. If you purchase a dry box for your diving accessories, consider, that these boxes easily get too small, because with time you will have more and more to store in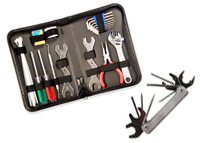 Tools
Special tools which come in tool kits or as multi tools can be dive saving. If you are on a dive boat and there is just a burst O-ring to change or a hose to screw tight, you will be happy to have your tools with you! These kits provide the most commonly used tools for repairs, like wrenches, screwdrivers and allen keys.
Be aware that they just should be used to fix small problems on your own. Any technical maintenance like disassembling the regulator, changes of spare parts etc. have to be done by the manufacturer or authorized persons, not by laymen!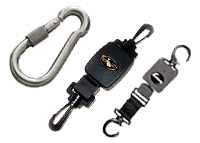 Clips, straps, retractors
Items like retractors, dive carabiners, clips and straps can be very convenient and make the dive easier.
They are used to attach your octopus, compass, light, diving console, etc. to your BCD to hold them in place and to ensure a quick access to them. Adjustable wrist lanyards are used as camera holders.
You will find a wide range of different designs and materials on the market. To choose what fits to your needs, check if the handling is comfortable for you and compatible with your equipment.