For exploring of wrecks make sure to have the required training level and equipment!
Check with your dive center to have all necessary information for safety!
Always dive according to that and to the current conditions!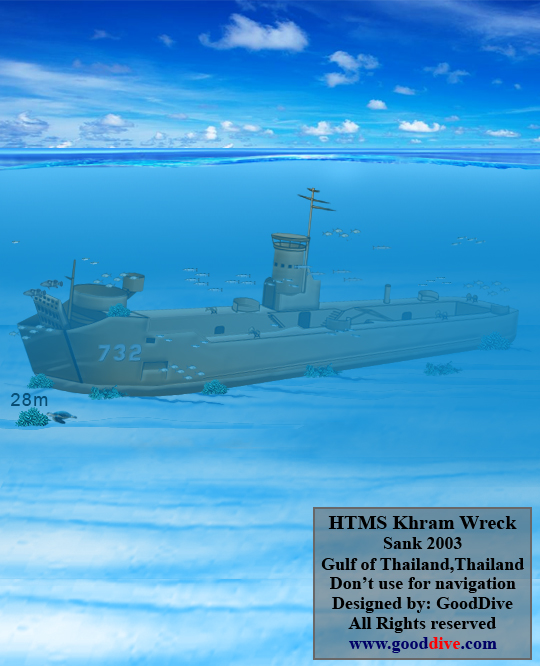 The HTMS Khram is a decommissioned American Landing ship (former name: USS LSM-469), built to carry troops, tanks and equipment way up to the beach. Since 1962 it was used by the Royal Thai Navy.
In February 2003 it was initially sunk by the navy near Koh Phai and Koh Larn Islands to let it become an artificial reef. Before the sinking it was well prepared as a dive site. Diesel, oil and weapons were removed as well as most obstacles that could endanger divers.
The 60 m long wreck is now standing upright on the sea bed in a depth of 27 m, its superstructures coming up to about 15 m below the surface.
Within the 10 years the wreck became a colorful dive site with vibrating marine life. You can spot barracudas, jacks, turtles, sharks, bat fish and more around. Some compartments of the wreck are filled with shoals of fish.
Due to frequently strong currents that reduce the visibility (sometimes less than 10m) and the depth the wreck is reserved for advanced divers and not recommendable for beginners.
Large holes had been cut in some parts of the ship's walls in order to make penetration easier. But caution is still advised, since in the meantime some areas of the exterior have collapsed and not all doors in the interior had been removed. In some sections there is no natural light.
The highest point of the wreck, the bridge and the radio room is easy to enter. The entrance to the engine room is possible through a huge hole in the deck, only pipes, gauges and dials remain, the engine itself was removed. If the access is not difficult and there is still natural light you should ensure good buoyancy, not to stir up too much sediment.
From the big passage ways on the starboard and port side of the ship you will find some interesting corridors to explore, most of them are well lit.