For exploring of wrecks make sure to have the required training level and equipment!
Check with your dive center to have all necessary information for safety!
Always dive according to that and to the current conditions!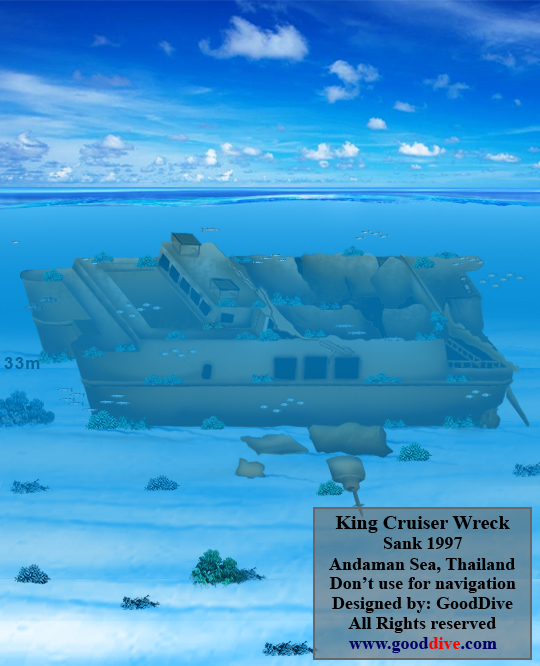 Now the wreck of the King Cruiser is lying upright in 33m depth on the sandy sea bed. It comes up to the surface until about 12m. There is a fixed rope installed to descend from the surface down to the ship.
Some years ago it was possible to explore the interior of the wreck, the passenger and car decks could be entered. Nowadays a deep penetration is not recommendable anymore, since the main deck above the car decks have now collapsed partially.
Within the last years the King Cruiser has developed into a beautiful artificial reef, the marine life around is amazing. You will find big schools of barracudas patrolling around and beside them numerous groupers everywhere. At the wreck well trained eyes will spot scorpion fish, so one should take care when holding onto anywhere. There is as a good chance to see whale sharks passing.
Due to the depth and frequently strong currents and poor visibility the wreck is not suitable for beginners but for advanced or technical divers. Since the popular dive site can be reached from several destinations (Phuket, Krabi, Ko Lanta, Koh Phi Phi) on daily trips, it might be quite crowded during the high season.