For exploring of wrecks make sure to have the required training level and equipment!
Check with your dive center to have all necessary information for safety!
Always dive according to that and to the current conditions!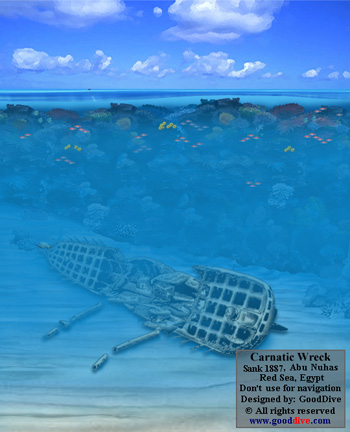 The wreck of the Carnatic is the oldest one of the four wrecks at Sha'ab Abu Nuhas. The cargo ship, transporting wine bottles, sank 1869 after its collision with the reef.
Now the 90m long wreck is lying on its port side in a depth of 28m, reaching up to 17m. As the wooden floor rotted away the entire hull looks like a skeleton, covered with soft corals. The free view into the holds shows huge clouds of glass fish and numerous lion fish. When you decide to grope your way through the holds, take care, not to destroy the beautiful coral coverage or not to come in touch with the lion fish and remains of broken wine bottles on the ground.
Sometimes the currents can be strong or the swell can be heavy, this has to be taken into consideration for the ascent in free water.