For exploring of wrecks make sure to have the required training level and equipment!
Check with your dive center to have all necessary information for safety!
Always dive according to that and to the current conditions!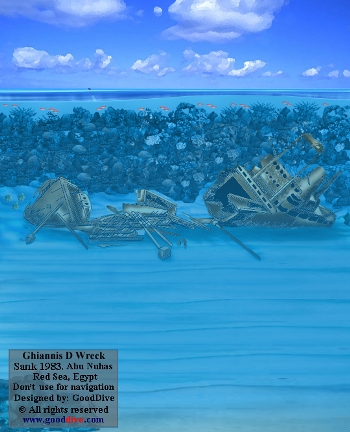 The wreck of the Ghiannis D is probably the most famous and photogenic amongst the wrecks of Abu Nuhas.
The cargo ship, transporting timber, ran to the reef in 1983 and sank. Now the 100m long wreck is lying close to the reef in a depth of 27m. Midships it is completely destroyed, iron parts of the hull and remains of the timber are scattered around and provide good shelter for giant moray eels. The bow and stern are still intact.
The engine room with its two huge diesel engines and other premises in the stern section are easy to enter and to explore, but due to the oblique position of the Ghiannis D the diverís sense of balance might be disturbed!
Be careful whilst diving along the deck rail and through the bridge if there is a heavy swell, the suction can pull you through doors or windows!
It is recommendable to ascend along the main mast, which reaches up to 5m and enjoy the marine life around the wreck during the safety stop. Groups of batfish, fusiliers and sometimes a big napoleon will accompany you.