For exploring of wrecks make sure to have the required training level and equipment!
Check with your dive center to have all necessary information for safety!
Always dive according to that and to the current conditions!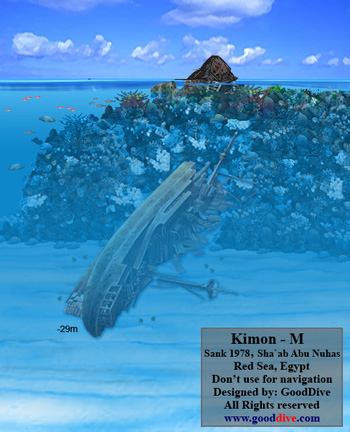 The cargo ship Kimon M, loaded with lentils, ran to the north eastern part of Sha'ab Abu Nuhas in 1978. After few days of being stuck on the reef, storm and waves pushed the ship down, the bow broke off, the main body sank on its starboard side to a depth between 10-29m. Due to currents and storms most sections of the wreck became instable. Only the stern with its huge propeller is still quite intact and easy to dive. The penetration of the wreck is not recommended, it is too dangerous. But because of its size it's also impressive, to just dive around and have a look from outside. You will find a school of batfish accompanying you and sometimes a huge napoleon observing the scenery.