Diving depth gauge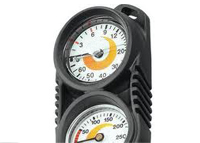 The depth gauge is a device to show the current depth of the scuba diver. It is absolutely essential for a diver to know the duration and the depth of his dive in order to calculate decompression stops according to the nitrogen saturation and the residual nitrogen for repetitive dives.
Most commonly they are integrated in rubber consoles, frequently as double or triple together with a pressure gauge or a compass.
Depth gauges are available in measures by meters or feet, mostly with a maximum depth indicator, with digital or analog displays. On the analog display the depth scale should be non-linear to be easier to read in shallow depths in order to maintain safety or deco stops. A luminescent display is an advantage, because it's easier to see in the dark or bad visibility.
It's sensible to buy the depth gauge with the measuring scale the diver is used to.
All information and opinions provided are general and no substitute for professional advice. Always check with your diving instructor what fits best to your personal needs and to your level of training.