Diving fins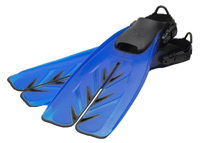 Fins are an indispensable part of the scuba diving gear that enable divers to swim under water more efficiently by using their strong leg muscles. There are two different basic types, the full-foot fins and open-heeled fins.
Full-foot fins are worn like slippers, they cover the whole foot and are not adjustable. Because they are not used with neoprene boots they are commonly used for warm water dives and for snorkeling.
Open-heel fins have an adjustable strap across the heel, they require neoprene boots. Mostly they have larger and stronger blades, to be more powerful in the open water.
You can find a huge variety of fins in different styles and features (split fins, blade fins, soft blades, hard blades, etc.) It's important to choose fins according to the personal needs and state of training, because too hard or too large blades can cause cramps in the calf for untrained divers.
Before purchasing, try your fins on to make sure they fit well, either with bare feet or with your boots. They have to be tight enough so you don't lose them underwater (put them on and shake your leg in all directions), but not too tight, they should not squeeze feet and toes.
All information and opinions provided are general and no substitute for professional advice. Always check with your diving instructor what fits best to your personal needs and to your level of training.