Diving BCD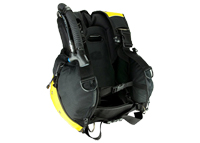 A BCD (= Buoyancy Control Device) or BC (= Buoyancy Compensator) is worn like a jacket and enables the divers to control their depth under water as well as to swim safely on the surface. The most common model for recreational diving is a unit consisting of a harness to attach the tank and an inflatable bladder extending along the back and under the arms to the front. A low pressure inflator/deflator, connected to the 1.stage of the regulator, makes it possible to inflate the BCD directly with air from the tank. This small device is commonly attached to the jacket with a large diameter hose and equipped with two buttons (to inflate and to deflate) as well as with a mouthpiece to inflate by mouth. To avoid a rupture of the bladder by over inflation the jacket has to have an overpressure valve, which can as well be opened manually by a cord (quick dump). According to the size they should have a minimum lift capacity. Due to height, weight, wet suit size etc. of the diver the amount of weight can vary, the lift capacity has to be sufficient to keep the weight afloat.
Buoyancy Control Devices come in a huge variety of different styles with different features and accessories,
For example:
Wing Jackets, which have the bladder only left and right along the backplate, commonly used for tech diving
Buoyancy compensators with a different inflator system, not attached to a hose but placed below the left hand pocket, easy to grip
Jackets with an integrated weight system, releasable pockets for the weights make the use of weight belts unnecessary
BCs designed with a specific cut for women
Before purchasing a BCD the diver should have an idea about the differences and his personal needs. To choose the right jacket, take some important requirements into consideration:
Low pressure inflator/deflator with mouthpiece
Lift capacity
Safety valves/overpressure valve (with easy reachable quick dumps)
Adjustable tank hold straps (easy change of tanks between the dives)
Quick adjustment, quick release straps
Proper fit (should be tight, but not uncomfortable)
Tough material, construction
Desirable accessories:
Pockets (with zip or Velcro closure)
D-rings (to clip accessories)
All information and opinions provided are general and no substitute for professional advice. Always check with your diving instructor what fits best to your personal needs and to your level of training.