BCD maintenance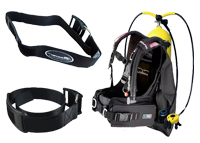 Before each dive you should check your BCD's functions.
Connect the inflator to the regulator and the tank and inflate it with a few blasts of air, then listen if you can hear any air leaking into the BCD. This could indicate a malfunction of the inflator, which has to be fixed by an authorized technician. The next test you should do shows, that your BCD holds the air pressure. To check this, inflate the BCD completely and leave it like that for about 15 minutes.
Further, inspect the tank strap and all other straps and buckles to see if they are in good condition.
After the dive soak your BCD in fresh water for a few min, then rinse it under running water. You should rinse the inside of the bladder as well; fill it half full with water through the inflator hose, then rotate it a few times. To drain it, turn the BCD upside down and release the water through the mouthpiece. To empty it from the remaining water inflate it completely and drain it again. After this you inflate it to about 50% and hang it to dry in a place without direct sunlight.
To store your BCD, the best is to hang it in a cool dry place.
To get advice ask the instructors, or share your opinions with other divers in the diving equipment forum.
Look at the diving center directory to find a dive shop or diving center in your region.
All information and opinions provided are general and no substitute for professional advice. Always check with professional diving equipment technicians!