Camera and Diving light maintenance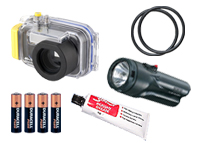 Before the dive check if all connections of your camera and your diving light are closed properly, any penetration of water will cause damage to your valuable equipment! If you have a camera in a special under water housing it's a good idea to put a small packet of silicagel inside. This will absorb moisture that might be in the housing.
As cameras and lights are very sensitive to water, salt and sand, they should be properly rinsed with fresh water after the dive. While rinsing, make sure that all moving parts are working and residue free from salt or sand. After they are completely dry, open the housing and clean and lubricate the o-rings thoroughly. This should be done after each use. If you will not use them again for a certain time, it's recommendable to remove the batteries to avoid discharging.
The best way to store your camera is to keep it in a special protective case or bag which prevents it from damage and exposure to sunlight and dust.
To get advice ask the instructors, or share your opinions with other divers in the diving equipment forum.
Look at the diving center directory to find a dive shop or diving center in your region.
All information and opinions provided are general and no substitute for professional advice. Always check with professional diving equipment technicians!