Regulator maintenance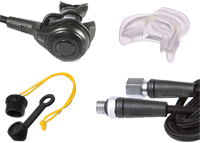 If you haven't been diving for a while or you are preparing your diving vacation, you should check your regulator to be sure, that it's ready to dive, when you arrive at the dive site.
Connect your regulator to the tank, open the valve and check, if it's not leaking. Breath out of the second stage and the octopus and check your pressure gauge for precise indication.
Examine the second stage housings and all hoses for cracks, push the hose protectors aside to look beneath them as well. Make sure, that your mouth pieces are intact and check all metal parts for corrosion. Then disconnect the regulator from the tank and close the air inlet with your thumb. If you inhale on the second stage and the octopus, they should not let in any air.
In case of any cracks in the hoses or corrosion of the metal parts, hand your regulator over to an authorized service point.
After the dive immediately put the dust cap (make sure it's dry) on the first stage.
Then soak the regulator in fresh water. Make sure, that no water is getting into the first stage! And don't push the purge button of the second stage while it's in the water! Move the inflator connection back and forth to get rid of possible residues of salt. Finally rinse the entire regulator under running water and put it in a dust and sunlight free place for drying. Later store it in a rolled position which gives little or no stress to the hoses.
To get advice ask the instructors, or share your opinions with other divers in the diving equipment forum.
Look at the diving center directory to find a dive shop or diving center in your region.
All information and opinions provided are general and no substitute for professional advice. Always check with professional diving equipment technicians!