Dive computer maintenance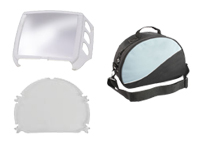 To ensure the durability of a dive computer it's important to follow the manufacturers advice concerning the battery replacement and the recommendations of regular service intervals for function test, done by the authorized dealer.
As dive computers are very sensitive to sand, salt and water it is important to rinse them thoroughly with fresh water after each dive. Make sure that it's residue free from salt and sand. After drying keep it in a protective bag to prevent it from shock, direct sunlight or extreme heat.
As the computer displays are susceptible to scratches, it's a good idea to use a display protector. These plastic protectors are clipped over the screen of the computers, they are available on the market for different models.
To get advice ask the instructors, or share your opinions with other divers in the diving equipment forum.
Look at the diving center directory to find a dive shop or diving center in your region.
All information and opinions provided are general and no substitute for professional advice. Always check with professional diving equipment technicians!