Diving compass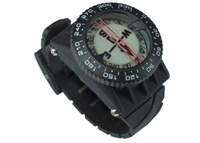 An underwater compass is a compact navigation tool which can either be worn on the wrist like a watch or integrated in a gauge consol, or attached to the BCD with a special retractor. Some dive computers are equipped with in-built digital compasses. No matter which model you prefer,
a common liquid filled magnetic compass should fit these requirements:
Phosphorescent card
Top and side reading
Easy to read bearing indicators
High tilt potential
Rotating bezel with luminescent markings
All information and opinions provided are general and no substitute for professional advice. Always check with your diving instructor what fits best to your personal needs and to your level of training.