Diving snorkel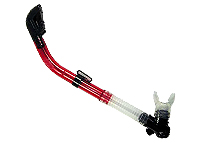 The snorkel is a plastic tube with a mouth piece, which allows the divers or snorkelers to breathe safely on the surface, even when there are high waves. This is why it is required as a fix part of the scuba diving equipment. It should be fastened on the mask strap, to be always available for the scuba diver, in case he has to swap to it from his regulator.
Snorkels are offered on the market in a lot of different models, like with purge valves, to make the clearing easier or with splash guards, to protect water from splashing in, etc. The membranes of the purge valves are delicate, they need to be rinsed to avoid damaging by sand etc. This is why most scuba divers prefer the simple version.
The most important feature to look out for to be sure about safety and suitability is that the snorkel shouldn't exceed a maximum length (40 cm) and diameter (2 cm). This is to limit its air volume in order to ensure that the air in the snorkel can be completely exchanged with normal breathing.
All information and opinions provided are general and no substitute for professional advice. Always check with your diving instructor what fits best to your personal needs and to your level of training.