Diving watch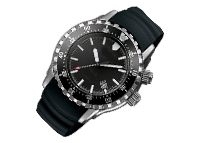 Scuba divers need a diving watch to be aware of their dive time in order to perform decompression stops if necessary and to manage the planning of repetitive dives.
There are two basic styles of diving watches, the classical analog ones and the digital ones. Some have additional features such as integrated depth meter or temperature indication.
No matter which preference the diver has, he should ensure the watch he chose has the required properties:
Dive watches have to be water resistant to minimum 100 m (300 ft), even better to 200m. Watches, which are offered as "waterproof" are not suitable for scuba diving, they will not resist the pressure.
They have to have an adjustable one-way (clockwise) rotating bezel with a pointer indicator to determine the dive time.
Divers who use to wear gloves should take in consideration, that they can handle their watch with them as well.
All information and opinions provided are general and no substitute for professional advice. Always check with your diving instructor what fits best to your personal needs and to your level of training.